To view yesterday's Brief, please go here.

To join PSN's weekly conference call,
please go here for details.

Capitol Hill Prayer Partners
P.O. Box 5152
Herndon, VA 20172-1970
chpp@patriot.net

The Daily Brief
"Praying for All in Authority"
Thursday, September 14, 2017

"Never will I leave you; never will I forsake you." (Hebrews 13:5)
A Picture is Worth A Thousand Words!

To learn more about this photo, please see the information posted at the end of this edition of The Daily Brief.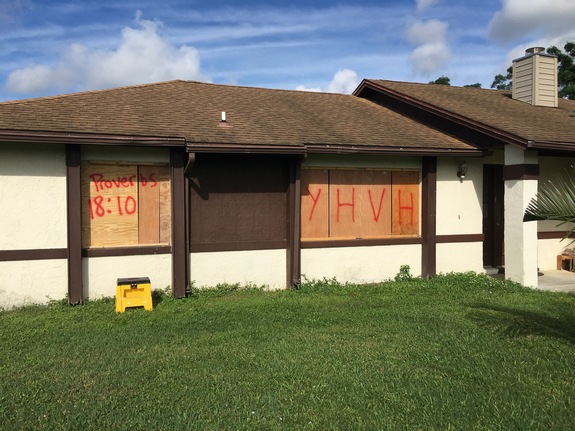 "The name of the Lord is a strong tower;
The righteous run to it and are safe." (Proverbs 18:10)



Is God Speaking Through the Storms?

Anne Graham Lotz:

Is God speaking through Irma, Harvey and an earthquake?

Within weeks, we have experienced record-breaking fires in the northwest, record-breaking hurricanes in Texas and Florida, and a record-breaking earthquake in Mexico. What is happening? Are these disasters random? Just freaks of nature? Or is something more significant intended? The answer may be found in an incredible Biblical story.
The Old Testament book of 1 Kings 19 records a dramatic scene when the Lord God passed by as the prophet Elijah stood in the mouth of a cave. The description is eerily similar to ours, because first there was a great and powerful wind, but the Lord was not in the wind. After the wind there was an earthquake, but the Lord was not in the earthquake. After the earthquake came a fire, but the Lord was not in the fire. And after the fire came a still, small voice--the gentle voice of Father God speaking to His frightened, weary child.
God used the earthquake, wind and fire to get Elijah's attention, because God had something to say. Our situation is so similar to Elijah's it begs the question: Is God using these storms to get our attention because He also has something to say to His us? Yes, He is. What is it? I believe God is saying in essence what He said to Elijah. His message can be broken into four parts:
1) Be comforted.
The fact that God spoke to Elijah revealed God's presence. God is with us. He has promised, "Never will I leave you; never will I forsake you." (Hebrews 13:5) God is right there. With you. Now! And He understands what it feels like to be stripped of everything.
2) Be blessed.
God told Elijah He would bring help. And God did. He brought Elisha alongside. God will bring us help, too: first responders, FEMA, friends, neighbors, family-even strangers will come alongside to help in the work of rebuilding. They are moved to do so by the Spirit of God, so even in the mess, mold, muck and misery we are aware of Heaven's blessing.
3) Be encouraged.
God told Elijah there were more faithful believers in God than Elijah was aware of, implying Elijah's life had been more impactful than he knew. Our lives also have eternal significance. No man is an island. Life is not just about you. Me. These storms have given ample opportunity for us to understand that life is about something bigger than we are. It's a good time to reorder our priorities and private world.
4) Be ready.
God gave Elijah another assignment-a purpose. And I believe God has a purpose for us. We need to look to Him and be ready for what's coming next. Because soon after Elijah's sensational confrontation with God, he was "raptured." Taken up into Heaven without seeing death.

Don't miss this implied message. In the words of Jesus, "Do not let your hearts be troubled. Trust in God, trust also in me. In my Father's house are many rooms; if it were not so, I would have told you. I am going there to prepare a place for you. And if I go and prepare a place for you, I will come back and take you to be with me that you also may be where I am." (John 14:1-3)

Heaven is waiting! Jesus is coming! The signs He gave signal that His coming is imminent. On that day, don't be left behind. Be ready to meet Him face to face. Turn to Him now. Place your trust in Jesus.
God is speaking through the storms. Are you listening?

Anne Graham Lotz, is author of ten books. Her latest is "The Daniel Prayer." She is president and CEO of AnGel Ministries, a non-profit organization that undergirds her efforts to draw people into a life-changing relationship with God through his Word. Visit her website here. Lotz is the daughter of Billy and Ruth Graham.

Read Anne's original article on Fox News by going here.



1. Weekly Prayer Bulletin
- Insight for Intercessors

Go here.
2. Danon begins term as UN General Assembly Vice President
- Israel National News

With the opening of the 72nd Regular Session of the United Nations General Assembly this week, Israel's Ambassador to the UN Danny Danon has begun serving as a Vice President of the General Assembly. Danon will preside over a General Assembly session for the first time when Prime Minister Binyamin Netanyahu addresses the UN next Tuesday (September 19).

Ambassador Danon was elected to this position as a representative of the Western European and Others (WEOG) regional group. In addition to presiding over GA meetings, Danon will take part in setting the Assembly's agenda, as well as oversee rules and decorum during sessions.

"I am proud to represent Israel in this important role that reinforces our position as an equal partner at the UN," Danon said. "We have proven once again that there is no role we cannot fulfill in the world's most important international organization," the Ambassador concluded.
(Read more)
3. Claiming 'powerful' public support, PM vows to lead Israel for years to come
- Times of Israeal

BUENOS AIRES, Argentina - Prime Minister Benjamin Netanyahu on Tuesday said he wants to continue to lead Israel for years to come, rebuffing reports claiming he plans to quit political life in the near future or seek snap elections.

He also said that despite his growing legal troubles, public support for him has reached unprecedented heights in recent weeks.

"I don't intend to go to new elections. I intend to continue this term until its conclusion and lead the Likud to a great victory in the 2019 elections," he said.
(Read more)
4. Liberman: 'Next confrontation will end decisively in Israel's favor'
- Israel National News

Defense Minister Avigdor Liberman today (Tuesday) visited the IDF's northern corps exercise, Or Hadgan. During the visit, the Defense Minister was briefed on the exercise and toured some of the participating units. He was accompanied by Lt. Gen. Gadi Eisenkot, Defense Ministry Director General (res.) Udi Adam, and Northern Command Chief General Yoel Struck.

"The only thing that will prevent the next war is the IDFs strength and its deterrent power," claimed Liberman. "This exercise constitutes a significant step in preparing the IDF for a confrontation in the north should we need it, and I am pleased to receive an impression of the readiness, determination, and professionalism in the various units and among the commanders."

"This exercise is also a reminder to anyone planning to harm the security of the citizens of Israel, that the next confrontation, if it breaks out, will decisively end in favor of the IDF and the State of Israel," the Defense Minister stressed.
(Read more)
5. 'Israel to occupy parts of south Lebanon in next conflict with Hezbollah'
- Jerusalem Post
In the event of another war with Hezbollah, the IDF's objective would be to occupy parts of southern Lebanon where the group has support and infrastructure and to force a UN resolution that improves the security situation on the northern border, a senior IDF officer said on Monday.
Thousands of soldiers from the 319th Armored Division, aka the Mapatz ("Bang") Formation, the majority of them reservists, are currently drilling such a scenario during the second and final week of the Northern Command's Or Hadagan exercise, the IDF's largest in nearly 20 years.
According to a senior officer involved in the drill, Israel would not aim to occupy Lebanese territory for a significant period, rather it would be with the aim to end the conflict with Hezbollah as quickly as possible by destroying the Lebanese Shi'ite group's capabilities and infrastructure.
(Read more)
6. Israel and China Sign $300 Million 'Clean-Tech' Trade Agreement
- US News & World Report
Israel and China have signed a $300 million trade agreement meant to boost the export of Israeli environmental-friendly energy and agricultural technologies to China, Israel's Finance Ministry said on Monday.
Foreign Minister Moshe Kahlon was in Beijing to sign the "clean-tech" deal which builds on past agreements, the ministry said in a statement.
The new deal, it said, "allows the two sides to expand bilateral economic activity into other environmental-friendly technologies, including advanced agriculture technologies and smart and green energy technologies, which the Chinese government wants to implement using Israeli experience and expertise."
(Read more)




1. Trump supports $75m. additional aid to Israel beyond Obama-era MOU - Jerusalem Post

The Trump administration will support Congress's effort to provide Israel with more aid than was guaranteed in a formal defense package negotiated by former US president Barack Obama and Prime Minister Benjamin Netanyahu last year, The Jerusalem Post has learned.

The original agreement negotiated by Prime Minister Netanyahu and former US president Barack Obama provides Israel with $38 billion through 2028. That agreement - a memorandum of understanding meant to govern US defense assistance to Israel through the coming decade - provides Israel with $38 billion through 2028. During the 2016 negotiations, Israel's leadership signed a side letter promising to return any aid appropriated by Congress exceeding the $3.1 billion set aside for this fiscal year. But Congress ignored that provision, cutting Israel an additional $75 million in aid in its latest appropriations bill.

A report in the right-leaning Washington Free Beacon published over the weekend claimed that US Secretary of State Rex Tillerson wanted Israel to return the check, as promised in its letter to the Obama team. But a senior State Department official said that report was incorrect. (Read more)
- Father, we ask You to help our State Department and Congressional leaders come into agreement about this appropriation and provide clarity so that Israel will not be legally required to return these funds.

- A person who promises a gift but doesn't give it is like clouds and wind that bring no rain. (Proverbs 25:14)

2. 20 state Attorneys General tell Supreme Court to release videos exposing Planned Parenthood - LifeSiteNews

Attorneys General in 20 states asked the U.S. Supreme Court release undercover videos exposing Planned Parenthood's criminal activity. The top law enforcement officers in those states filed a "friend of the court" brief with the nation's highest court arguing that they should be privy to violations of law within their jurisdictions. Arizona Attorney General Mark Brnovich authored the amicus brief, which argues for lifting an injunction by Judge William Orrick and upheld by the Ninth Circuit Court of Appeals stopping the release of the undercover videos made by the Center for Medical Progress (CMP).

Banning the videos "hampers law enforcement's ability to effectively receive information and investigate possible civil or criminal wrongdoing," Brnovich reasoned. Alabama, Arkansas, Arizona, Georgia, Indiana, Kansas, Louisiana, Michigan, Missouri, Montana, Nebraska, Nevada, North Dakota, Ohio, Oklahoma, South Carolina, Texas, Utah, West Virginia, and Wisconsin are all part of the amicus brief. (Read more)
- Father, we pray the Supreme Court will take up this case, if for nothing else, affirming the First Amendment's freedom of the press. We pray these videos will be distributed and the practices of Planned Parenthood exposed.

- Whoever conceals their sins does not prosper, but the one who confesses and renounces them finds mercy. (Proverbs 28:13)

3. Betsy DeVos Stands Up for Due Process Rights in Campus Sexual Assault Cases - The Daily Signal

Education Secretary Betsy DeVos announced in a speech Thursday that she will roll back an Obama-era "guidance" document that drove colleges to implement Star Chamber-like tribunals to mishandle sexual assault cases. The guidance forced colleges to weaken already minimal due process protections for those accused of rape and sexual assault, and threatened schools that refused to do so with losing federal funding.

The Education Department will seek "public feedback and combine institutional knowledge, professional expertise, and the experiences of students to replace the current approach with a workable, effective, and fair system." DeVos highlighted a proposal by two former prosecutors for states to set up specialized centers with trained professionals for investigation and adjudication of sexual assaults. (Read more)
- Father, we pray for the young men and women on our college campuses. We pray they would fall in love with Jesus and avoid falling prey to the enemy's plan to destroy their lives through promiscuity.

- But if they cannot control themselves, they should marry, for it is better to marry than to burn with passion. (1 Corinthians 7:9)

4. White House: DOJ 'should certainly look at' prosecuting James Comey - Fox News

The Department of Justice should consider prosecuting James Comey for his "improper" actions while serving as FBI director, the White House said Tuesday. Sarah Sanders, the White House press secretary, argued during the daily press briefing that Comey's actions as FBI director "were improper and likely could have been illegal." Asked if President Trump wants the Department of Justice to prosecute Comey, Sanders said that's "something they should certainly look at."

Sanders said the former FBI director "politicized an investigation by signaling he would exonerate Hillary Clinton before he ever interviewed her or other key witnesses." That's in reference to new allegations Comey drafted an "exoneration statement" for Clinton weeks before interviewing her during the investigation into her email server. (Read more)
- Father, we pray our "public servants" will be held accountable for breaking the law and using their positions for selfish political ends. We pray no one will be above the law, including former FBI Directors.

- It is time for the Lord to act, for they have broken Your law. (Psalm 119:126)

5. Budget Director Mulvaney: Tax Reform . . .That's What's Going to Save the Country' - CNS News

President Trump is launching an all-out effort to move tax reform through Congress, quickly. In two tweets on Wednesday morning, President Trump urged Congress to get going: "The approval process for the biggest Tax Cut & Tax Reform package in the history of our country will soon begin. Move fast Congress!" the president wrote. And then: "With Irma and Harvey devastation, Tax Cuts and Tax Reform is needed more than ever before. Go Congress, go!"

The president wants the biggest corporate tax cut he can get, and it doesn't have to be revenue-neutral, White House Budget Director Mick Mulvaney told Fox News Tuesday evening. Mulvaney said the goal of tax reform is to "unleash the American economy," getting it back to sustained 3 percent annual growth. "And we think that a revenue neutral, sort of a fiddling along the edges, on the margins of the tax bill is not the way to do that." (Read more)
- Father, we pray for the big, bold tax reform our nation needs. Help Congress draft a bill to unleash our economy while simplifying our tax code.

- This is an easy thing in the eyes of the Lord. (2 Kings 3:18a)

6. Dems Make 11th Hour Pitch to Kill Franchising - Washington Free Beacon

A secret memo circulating among Democrats on Capitol Hill attempts to portray legislation that would reverse an Obama-era regulation that threatened the franchise business model as bad for small business owners. Democratic staffers issued a memo on Monday intended to rally members of the House Committee on Education and Workforce against the Save Local Business Act, which would protect contractors and franchisors from being held liable for labor violations committed by subcontractors or franchisees that oversee labor practices.

The bill would overrule a 2015 decision by President Obama's National Labor Relations Board, which expanded the liability of parent companies in a decision critics said heavily favored labor unions. The bill has attracted bipartisan support since it was introduced in July. Rep. Henry Cuellar (D., Texas) announced his support after consulting with franchisees who said the new standard would limit opportunities for small businesses, as parent companies seek to shield themselves from liability.

The insider said Democratic staffers do not understand the nature of subcontracting or franchising. He said Democrats could end up handing a victory to big businesses and large franchisees and subcontractors who can afford expensive regulatory attorneys at the expense of entrepreneurial franchisees, subcontractors, and other small business owners. "The memo only proves how naïve they are about how these businesses actually work," the insider said. (Read more)
- Father, we pray Congress will pass the Save Local Business Act and help business owners continue to invest and prosper.

- "Sow your seed in the morning, and at evening let your hands not be idle, for you do not know which will succeed, whether this or that, or whether both will do equally well." (Ecclesiastes 11:6)

7. Trashing Trump: Broadcast coverage of the president now 91% negative, say analysts - Washington Times

Much of the news media continues to offer coverage which is both hostile and biased against President Trump and his administration. Case in point: a wide-reaching new study from the Media Research Center finds that 91 percent of the recent coverage which aired on ABC, CBS and NBC has been negative. "Analyzing the networks' spin makes it clear that the goal of all of this heavy coverage is not to promote the President, but to punish him," the analysts said. "In June, July and August, broadcast evening news coverage of Trump was 91 percent negative - worse than the astounding 89 percent negative spin we calculated during the first three months of the administration, usually a traditional honeymoon period for new presidents." They based their judgment on the actual tone and content of evaluative statements from those who appeared on camera, including "experts" billed by the three networks as nonpartisan, along with voters, reporters and other correspondents.

"The networks' aggressive anti-Trump spin has been constant throughout 2017, as it was during the presidential campaign last year. The closest the evening newscasts came to achieving balanced coverage was in April, when a few reporters and analysts praised the President's use of cruise missiles to punish the Syrian regime for a chemical weapons attack. Yet network coverage that month was still skewed against Trump by a greater than four-to-one ratio," the two analysts said, noting that all three of the networks treated Mr. Trump's election as if it was a "national crisis." (Read more)
- Father, we pray the American people will become more skeptical as they clearly see the media bias and find more accurate sources of information.

- God will go before me and will let me gloat over those who slander me.
(Psalm 59:10b)

8. Smuggling operations at sea targeted in latest UN sanctions against North Korea - South China Morning Post

The UN has called on member states to use "new tools" to clamp down on smuggling activities at sea under the latest sanctions against North Korea following its nuclear test last week.

Traders along the border between China and North Korea said Chinese authorities had already cracked down on smuggling of products including seafood and coal after previous rounds of sanctions and now they expect the screws to be tightened further.

The United Nations Security Council resolution passed on Monday said North Korea had been smuggling coal and iron ore to other countries by sea using sophisticated evasion techniques.

"The resolution provides member states new tools to stop high seas smuggling of prohibited products," it said. Suspicious vessels would be stopped for inspection at sea or in a port and they could have their assets frozen, be denied port access, deregistered or hit with other penalties if they failed to cooperate. (Read more)


- Father, we pray for the necessary cooperation to isolate North Korea and remove the threat of their nuclear program.

- The godly will never be disturbed, but the wicked will be removed from the land. (Proverbs 10:30)

9. Top Russian Diplomat Urges US to Stop Destroying Russia-US Relations - VOA

Russian Deputy Foreign Minister Sergei Ryabkov has urged the United States to start finding a way to resolve the problems between the two countries. "We called for a stop to the destruction of Russia-U.S. relations and to start finding solutions to resolve problems that are mounting through no fault of ours," said a Russian Foreign Ministry statement after Ryabkov met with U.S. Undersecretary of State Thomas Shannon in Helsinki, Finland. Shannon arrived in Finland earlier Monday for the talks aimed at calming tensions, between Washington and Moscow, which have been mounting for months.

Shannon is the State Department's third-ranking official and met earlier this year with Ryabkov to discuss numerous obstacles in the bilateral relationship.

Tensions between the United States and Russia have been especially high since allegations emerged that Russia interfered in the 2016 U.S. presidential election. The U.S. Congress passed sanctions against Moscow in July for its alleged meddling and U.S. President Donald Trump, unwilling to risk having lawmakers override a veto, signed the legislation, but blamed Congress for creating new tensions with Moscow. (Read more)


- Father, I pray You would give President Trump and our State Department wisdom as they try to develop areas of agreement and cooperation with Russia.

- Where there is strife, there is pride, but wisdom is found in those who take advice. (Proverbs 13:10)

10. Hundreds of thousands could be evacuated as 'giant' typhoon set to hit southeastern China this week - South China Morning Post

Typhoon Talim could be as powerful as Hurricane Irma that struck Florida last week, expert says. Authorities in southeastern China will begin evacuating up to half a million people from their homes on Tuesday as the region braces for a "giant" typhoon that is expected to make landfall later in the week. Typhoon Talim was forecast to strike several cities along central and northern sections of the Fujian coastline, including Fuzhou and Ningde, Liu Aiming, chief engineer at the province's meteorological bureau, said.

Evacuation notices could be issued to as many as 400,000 or 500,000 people, though the exact figure was subject to change as the situation was still evolving, Liu said. Talim formed east of the Philippines on Saturday and was on course to hit both Fujian and Taiwan, Liu said. It had been steadily gathering strength and by the time it made landfall would most likely have grown into a super typhoon, the highest level in China's rating system and comparable to a category 4 or 5 hurricane in the United States, she said.

"Talim is a giant. It will dwarf any of the others [typhoons] we've seen this year," she said. (Read more)


- Father, we pray this sudden movement of people will allow the hope of Your Gospel to be shared with many thousands of people. We pray for minimal damage and loss of life.

- Departing, they began going throughout the villages, preaching the gospel and healing everywhere. (Luke 9:6)

11. Bombshell Report Catches Pentagon Falsifying Paperwork For Weapons Transfers To Syrian Rebels - ZeroHedge

A new bombshell joint report issued by two international weapons monitoring groups Tuesday confirms that the Pentagon continues to ship record breaking amounts of weaponry into Syria and that the Department of Defense is scrubbing its own paper trail. On Tuesday the Organized Crime and Corruption Reporting Project (OCCRP) and the Balkan Investigative Reporting Network (BIRN) produced conclusive evidence that not only is the Pentagon currently involved in shipping up to $2.2 billion worth of weapons from a shady network of private dealers to allied partners in Syria - mostly old Soviet weaponry - but is actually manipulating paperwork such as end-user certificates, presumably in order to hide US involvement.

The OCCRP and BIRN published internal US defense procurement files after an extensive investigation which found that the Pentagon is running a massive weapons trafficking pipeline which originates in the Balkans and Caucuses, and ends in Syria and Iraq. But perhaps more shocking is the following admission that Pentagon suppliers have links with known criminal networks, also from FP: According to the report, many of the weapons suppliers - primarily in Eastern Europe but also in the former Soviet republics, including Kazakhstan, Georgia, and Ukraine - have both links to organized crime throughout Eastern Europe and spotty business records. (Read more)


- Father, we repent for giving and selling arms to wicked men. Help us bring an end to such practices and remove people who have made these decisions.

- Your roads are deserted; no one travels them anymore. The Assyrians have broken their peace treaty and care nothing for the promises they made before witnesses. They have no respect for anyone. (Isaiah 33:8)

12. Over 250 Protestant Leaders Sign 'Reforming Catholic Confession' on Essentials of Christian Faith - Christian Post

Over 250 prominent scholars, pastors, and church leaders from around the world released on Tuesday a theological statement affirming the essentials of the Reformation. And its Protestant authors contend that in this 500th anniversary year, the document is a "catholic" statement in its best sense.

The Reforming Catholic Confession is a document which outlines the main theological commitments held by a wide breadth of Protestant Christians, including evangelicals, since the Reformation. The purpose of such a statement is to demonstrate the remarkable togetherness that exists throughout the world among Protestants on the core elements of Christianity, said Jerry Walls, an author and professor of philosophy at Houston Baptist University. (Read more)
- Lord God, help us to remember that the only covenant we honor as Your Bride is the Covenant that was given to us on the Cross. Thank You, Father, for Your glorious gift of salvation, in Your name, amen.

- "Neither is there salvation in any other: for there is none other name under heaven given among men, whereby we must be saved." (Acts 4:12)




Wednesday, September 13, 2017

Hurricane victims benefit

Last night there was a star-studded telethon to raise money for victims of the Harvey and Irma hurricanes. It was on all the major networks. I didn't watch it because I knew that it would be a backdoor leftist lecture about global warming and the ills of the current White House. Guess what? I was right-according to press reports. It is a good thing that these "celebrities" want to use their platform to assist those in need. It's too bad that America has to endure their uninformed lectures on politics in the process. Of course, I'm sure all the celebrities felt really good about themselves afterwards and about bashing people who don't accept the fallacy of global warming. Isn't this about helping people? No confusion here.

According to The Daily Caller, Stevie Wonder began the Hand in Hand telethon by saying, "Anyone who believes that there's no such thing as global warming must be blind or unintelligent"--Interesting, coming from a blind man. There most certainly is a blindness going on with these people. They are blind to the need for America to come together as a people, a diverse people nonetheless. Even in a time when people's lives have been devastated by a natural disaster, these celebrities cannot find it in their hearts to encourage people to unite, galvanize, and overcome. Instead, America is subjected to a political sermon based on emotions rather than facts. It was a big show using people's misfortunes to advance an agenda. It is not, however, for us to judge.

As Americans, we do need to reach out to one another in times of need. As Christian Americans, even more so. Prayer, money, empathy, a helping hand, boots on the ground are all important witnesses to those who lost everything they had, who may never financially recover. I recall a time when our community church made sure that a family across from the church had food, clothing, and a place to stay after their house nearly burned to the ground. These people were not even "members" of the church, but they were members of our community. Likewise, they possessed a rugged individualism to rebuild and reestablish their lives as soon as possible so that there was no appearance of taking advantage. That's how things should work.

We didn't lecture them about whether they should attend church. We didn't tell them how to vote. We showed love, empathy and respect. We assisted them in a time of need. There were no conditions. It was acting out what Christ told us to do when he said in Mark 12:30-31, "And you shall love the Lord your God with all your heart, and with all your soul, and with all your mind, and with all your strength: this is the first commandment. And the second is like, namely this, You shall love your neighbor as yourself. There is no other commandment greater than these." And as is written in 1 John 3:17, "But whoever has this world's goods, and sees his brother have need, and shuts up his heart of compassion from him, how dwells the love of God in him?" In this witness, the Holy Spirit can work the miracle of salvation. No show or judgmental comments needed.

Have a Blessed and Powerful Day!

Bill Wilson
www.dailyjot.com




Trump Wins Again

Last week, the robed radicals on the 9th Circuit Court of Appeals again tried to limit the commander-in-chief's power to secure our borders. The court declared that the administration had to admit 24,000 refugees who had been initially approved by resettlement agencies before President Trump issued his executive orders on immigration and extreme vetting.

Yesterday, the Supreme Court sided with President Trump and once again overturned the 9th Circuit's decision.
The justices are scheduled to hear arguments on the constitutionality of President Trump's executive orders next month. But yesterday's decision suggests that a majority of the justices are at least somewhat sympathetic to the White House's view of the law.
In other immigration news, the Trump Administration announced that it is taking steps to punish four countries -- Cambodia, Eritrea, Guinea and Sierra Leone -- that refuse to take back deported illegal immigrants from those nations. This is something that previous administrations could have and should have done, but refused to do because they were not interested in enforcing our laws and defending our borders. (Gary Bauer)




Healthcare Overhauls

It's a big day for healthcare reform headlines. Here's a brief review:

Senate Republicans are considering a last-minute, long-shot attempt to revamp Obamacare. The plan is based on an idea by Senators Lindsey Graham (R-SC) and Bill Cassidy (R-LA) to essentially turnover the management of Obamacare to the states.

It is not at all clear whether the Graham/Cassidy bill has enough GOP support to pass the Senate. But time is running out. The reconciliation authority that would permit an Obamacare reform bill to pass with a simple majority vote expires at the end of the month.

Something has to be done. In testimony before the Senate yesterday, healthcare expert Avik Roy warned that Obamacare is currently experiencing "a partial actuarial death spiral."
If Republicans can't get their act together, bigger and more expensive government may be in our future. Senate progressives, led by Vermont socialist Bernie Sanders, offered their vision of healthcare reform today -- "Medicare for All." It's a full-blown, single-payer government-run nightmare.

In 2013, not a single Senate Democrat co-sponsored Bernie's bill. Today, at least 16 Democrats are publicly expressing their support. (Gary Bauer; Excerpt)




Hurricane Jose's looping path may bring it back toward Bahamas and US

Hurricane Jose, sitting out in the Atlantic on Wednesday, is expected to make a slow clockwise rotation over the next 36 to 48 hours that could bring it closer to the US and the Bahamas.

Jose was 510 miles east-northeast of the southeastern Bahamas midday Wednesday, with maximum sustained winds of 75 mph, making it a Category 1 storm.

It's expected to remain at hurricane intensity in the Western Atlantic as it takes an odd, looping path toward the US and Bahamas later this weekend.

Most computer models indicate Jose will stay out to sea and complete a tight enough loop to avoid moving onshore. Still, the forecasts were fairly uncertain about its path and its intensity. (CNN) Read more
- Father God, we thank You for the many, many ways You answered our prayers over the weekend about Hurricane Irma, greatly lessening the impact of this otherwise catastrophic storm. And now, Lord, we bring Hurricane Jose before Your Throne of Grace, asking for help in time of potential need. Thank You, Lord God, for hearing and for answering our prayers, in Your Mighty Name, amen.
- "The LORD is far from the wicked, but he hears the prayer of the righteous." (Proverbs 15:29)




Dinner with the Democrats

Pelosi, Schumer to have dinner with Trump Wednesday

House Minority Leader Nancy Pelosi and Senate Minority Leader Chuck Schumer will dine with President Donald Trump on Wednesday evening at the White House.

The discussion will include the DREAM Act - a proposal to provide long-term protection for undocumented immigrants who arrived in the country as minors - efforts to stabilize Obamacare health insurance markets, and a slew of December fiscal deadlines.

"It's a continuation of what we should do in December and we're going to work very hard to get him to be for Dreamers and straightening out health care," Schumer said at the Capitol on Wednesday morning.

Asked whether Trump's recent overtures to him angered Senate Majority Leader Mitch McConnell, Schumer said, "He asked us. We're going. Those are our two issues." (POLITICO)
Read more.

BREAKING!

Dems: Dreamers Deal Excludes Border Wall; WH Says No - Newsmax

Democratic leaders said Wednesday night they struck a deal with President Donald Trump to protect DACA recipients via legislation that would not include a border wall, although the White House insisted that the agreement did not exclude the wall.

Senate Minority Leader Chuck Schumer and House Minority Leader Nancy Pelosi had a working dinner with Trump at the White House Wednesday night and said in a statement they came to an agreement with Trump on how to protect the roughly 800,000 people who are in the U.S. under the Deferred Action for Childhood Arrivals program, which will be phased out in March.

"We had a very productive meeting at the White House with the President," the statement reads. "The discussion focused on DACA. We agreed to enshrine the protections of DACA into law quickly, and to work out a package of border security, excluding the wall, that's acceptable to both sides."
White House press secretary Sarah Sanders tweeted this:

"While DACA and border security were both discussed, excluding the wall was certainly not agreed to." (Read more)




A Call to Pastoral Prayer

The Role of the Pastor and the Place of Prayer in Public Worship Services

Submitted by:

Ronnie W. Floyd

President, National Day of Prayer
Senior Pastor, Cross Church

Let's Return to the Pastoral Prayer

Prayer led by the pastor of the church used to be a normal part of worship services. What was deemed in the past as a part of public worship, has now been minimized, eliminated, or delegated. This is not acceptable or good for the church.

There are several examples in the Scriptures where spiritual leaders called out to God in prayer before the people of God. Their prayers were passionate, from the heart, and meaningful. Prayers offered by the pastor of the church during worship services should be the same way.
To read Dr. Floyd's entire article, please go here.




More Daily Features

(See below . . .)

- The Persecuted Church
- Classic Hymns
- Signs and Wonders
- The Good News Corner
- Worship with Us Today!


Prayers for the Persecuted Church

"Remember the prisoners, as though in prison with them, and those who are ill-treated, since you yourselves also are in the body." (Hebrews 13:3)

Please visit the website for International Christian Concern to lift up prayers for the persecuted around the world, every day. Their link is: www.persecution.org -- or go here to connect. Thank you for interceding for our brothers and sisters who are suffering in Asia, the Islamic World, and the Far East.

Classic Hymns

HOW GREAT THOU ART

"O Lord, how great are Thy works!" (Psalm 92:5)
Lyrics

O Lord my God, when I in awesome wonder
Consider all the *worlds thy hands have made,
I see the stars, I hear the *rolling thunder,
Thy power throughout the universe displayed:
Refrain

Then sings my soul, my Savior God, to thee:
How great thou art! How great thou art!
Then sings my soul, my Savior God, to thee:
How great thou art! How great thou art!
When through the woods and forest glades I wander
And hear the birds sing sweetly in the trees,
When I look down from lofty mountain grandeur,
And hear the brook and feel the gentle breeze:


Refrain
And when I think that God, his Son not sparing,
Sent him to die, I scarce can take it in,
That on the cross, my burden gladly bearing,
He bled and died to take away my sin.


Refrain

When Christ shall come with shout of acclamation
And take me home, what joy shall fill my heart!
Then *I shall bow in humble adoration,
And there proclaim, "My God, how great thou art!"

Melody

Please go here.

About the Author:

Words: Stuart K. Hine, 1885.

Melody: Swedish folk melody

About the Hymn: In 1885, at age 26, Swedish preacher Carl G. Boberg wrote the words only of a poem entitled O Store Gud. Several years later, Boberg attended a meeting and was surprised to hear his poem being sung to the tune of an old Swedish melody.

In the early 1920s, English missionaries, Stuart K. Hine and his wife, ministered in Poland. It was there they learned the Russian version of Boberg's poem, O Store Gud, coupled with the original Swedish melody. Later, Hine wrote original English words and made his own arrangement of the Swedish melody, which became popular and is now known as the hymn, How Great Thou Art.
The first three verses were inspired, line upon line, amidst unforgettable experiences in the Carpathian Mountains. In a village to which he had climbed, Mr. Hine stood in the street singing a Gospel Hymn and reading aloud, "John, Chapter Three." Among the sympathetic listeners was a local village schoolmaster. A storm was gathering, and when it was evident that no further travel could be made that night, the friendly schoolmaster offered his hospitality. Awe-inspiring was the mighty thunder echoing through the mountains, and it was this impression that was to bring about the birth of the first verse.
Pushing on, Hine crossed the mountain frontier into Romania and into Bukovina. Together with some young people, through the woods and forest glades he wandered, and heard the birds sing sweetly in the trees. Thus, the second verse came into being. Verse three was inspired by the conversion of many Carpathian mountain-dwellers. The fourth verse did not come about until Hine's return to Britain.


Signs and Wonders

This is how much of the world is currently on fire

The 2017 fire season is a global phenomenon.

You may have missed the memo (we get it, there's been a lot going on) but the world is currently on fire. Massive blazes burn in the United States, Canada, Russia, South America, and across Europe. To give you a sense of the scale of the inferno, we've included maps of the wildfires, as well as images from some of the fiery scenes. Here is the lowdown.

Here in the United States the Forest Service is reporting that 2017 is shaping up to be a worse than average fire year based on acres of federal, private and state land burned. So far, 5.6 million acres of land has burned this year, or 1.8 million acres more than the ten year average of 3.8 million acres burned by this time. Some states like Nevada are saying that 2017 is the worst fire season in 15 years, while Montana has already used up much of its firefighting budget, even as much of the state remains in drought conditions according to the US Drought Monitor. The state may have to tap into reserve and federal funding, but that isn't the only cost. Brent M. Witham, a 29-year-old firefighter from Mentone, California, was killed cutting down a tree while working on the Lolo Peak Fire.
Across the border from the United States, fires are also currently scorching Canada's British Columbia. This is the province's second worst fire season on record and NASA satellites have identified the conflagration from space. It's unsurprising that the smoke is billowing over the border into nearby Seattle in Washington state which for much of last week was also under a heat advisory. On Thursday, the city hit a record breaking 94 degrees at the Seattle Tacoma airport. The regular high for the region at this time of year is 77 degrees. Between the heat and the fact that the region has been, according to US Drought Monitor is unnaturally dry that wildfires are knocking on their door is unsurprising.

On the other side of the globe, if you load up the European Commission's fire map, it looks like the end of the world, especially in Italy and Romania. So far, an area just slightly smaller than the state of Rhode Island has burned. The total is already roughly three times the normal amount of summer wildfires. Back in June, 60 people died over the course of one weekend in Portugal due to wildfires. Thirty people were killed when the fires reached roads on evacuation routes. And as the map makes clear, those fires don't seem to be abating, in part because of the hotter, drier temperatures.
Europeans have dubbed the heatwave "Lucifer"-a nod to the devil whose hell is supposed to be a high temperature inferno. The name seems to suggest that they may already be living through hell.

Wildfires are also plaguing Siberia in Russia, an image NASA has managed to capture on satellite footage, along with large swathes of Brazil. Back in June, South Africa was ablaze, and in New Zealand in February (during their summer) the city of Christchurch called a state of emergency after a wildfire sent thousands running from their homes and destroyed homes, and killed a pilot. In January, Chile, for whom like New Zealand January is summer, battled a similar unusual number of wildfires due to a combination of drought and high temperatures. (Source: Popular Science) Read more.

"I will show wonders in the heavens above and signs on the earth below, blood and fire and billows of smoke." (Acts 2:19)


The Good News Corner

'Normally Shy' 9-Year-Old Alabama Boy Spontaneously Pays for Florida Evacuee's Lunch
[Faithwire.com] When 9-year-old Alabama resident Landon Routzong saw a car with a Florida license plate, he wanted to do something nice for the people inside-assuming they were fleeing from monster storm Hurricane Irma.

Landon and his mother, Tara Paker Routzong, were in the drive thru for the Chick-Fil-A in Troy, Alabama when they saw the car, which was in front of them in line, Routzong wrote on Facebook.

Routzong and Landon had been talking about the upcoming hurricane that day, which is probably why Landon declared he would be paying for their meal.

"But how do you pay for the car in front of you?? You run toward their window with a debit card in hand and scare the mess out of them lol," Routzong wrote.

Landon took his mother's debit card and ran up to the man's window, asking him if he minded if he paid for his meal

Continue reading here.


Worship With Us Today!

Casting Crowns - "Who Am I"
To worship with us today, please go here . . .




About Capitol Hill Prayer Partners

Our Mission Statement

Capitol Hill Prayer Partners (CHPP) is a ministry which is positioned on Capitol Hill in Washington, D.C., helping members of the Body of Christ to "pray for those in authority over us" in our federal government. Our primary purpose is to offer intercession on site for the members of Congress and their staffs each day that the Senate and the House of Representatives are in session; and our chief prayer focus is that "God's will be done in earth, as it is in heaven." [Matthew 6:10].
Because Jesus Christ has shed His blood for all, we, too, pray for ALL, in a nonpartisan manner. Also, because the scriptures indicate that "the effectual, fervent prayer of a righteous man availeth much" (James 4:17), we are confident that fervent prayer, offered in the halls of the highest chambers of government in our land, can avail much for America. Capitol Hill Prayer Partners welcomes those who feel called to join us, engaging in this strategic work of intercession for our nation: "For there is no power but of God; the powers that be are ordained of God." [Romans 13:1]
Friends may participate by receiving our daily prayer alerts. You may contact us at chpp1994@gmail.com for more information. CHPP is a 501(c)(3) tax-exempt ministry. Thank you and God bless you!

Note: You may also learn more about CHPP by going here to visit our blog. Thank you!




We Welcome Your Gifts

Capitol Hill Prayer Partners (CHPP) is a 501(c)(3), tax- exempt, faith-based, ministry, dedicated to praying for our leaders (1 Tim. 2:1-4). CHPP relies solely on the gifts of our readers to continue this work; thus we greatly appreciate your help in supporting this publication. Offerings may be sent to: Capitol Hill Prayer Partners, P.O. Box 5152, Herndon, VA 20172-1970. Please make checks payable to: CHPP. THANK YOU!

DONATE ONLINE!

Now you can also donate online by going here. Or . . . if you prefer, simply paste this link into your browser to access our secure online donor system:

https://www.egsnetwork.com/gift/gift.php?giftid=3B77E058-983E-4415-AA4E-2F82ED1A4DEA#

"The grace of the Lord Jesus Christ be with your spirit." (Philippians 4:23)




Join our Bible Readathon!

Our Bible Readathon Continues

"Thy Word is a lamp unto my feet and a light unto my path." (Psalm 119:105)
We are now reading the Word of God every night from midnight to 6:00 a.m. EDT. We are reading through the whole Word, from Genesis to Revelation, and beginning again in Genesis when finished.

Our numbers of readers continues to grow over time. All are welcome to join!
Our conference number is: 712-770-4340.

The access code is: 350430#. Please call at any time from midnight to 6:00 a.m. EST. WELCOME!
[Note: we are reading from these versions of the Scripture: King James, New King James, New American Standard, and NIV.]




> > > To help sustain our work, please go here. Thank you!




About That Photo . . .

"Yehovah in Hurricane Irma"

by Nehemia Gordon

This news story is truly amazing. Nehemia Gordon, an orthodox Jew based in Israel, interviews two people from Florida who boarded up the windows of their homes and wrote the name, YHVH on the boards. They also wrote Proverbs 18:10 ("The name of the Lord is a high tower, the righteous run to it and they are safe"). Both homes were SPARED from the ravages of Hurricane Irma! Check it out! The picture is worth a thousand words!

(Submitted by Laura Densmore)