The 9th of Av: One Day Later

It's not too late to pray for PEACE in
JERUSALEM and in ISRAEL this week.
Please go here to learn more. Thank you.

Capitol Hill Prayer Partners
P.O. Box 5152
Herndon, VA 20172-1970
chpp@patriot.net

The Daily Brief
"Praying for All in Authority"
Wednesday, August 2, 2017
"For there are three that bear witness in heaven: the Father, the Word, and the Holy Spirit; and these three are one. " (I John 5:7)

> > > To help sustain our work, please go here. Thank you!

"Standing Together as One . . . Under the Cross of Christ"



More About the Eclipse

1. A Call to Solemn Assemblies: August 21, 2017

On August 21, 2017 we believe that God is calling America to begin 40 days of prayer for repentance, unity in Christ, and healing our land.

There will be a sign in the Heavens on August 21, 2017, the Great American Eclipse, running across America from Oregon to South Carolina, announcing God's call. August 21 is also the first day of the Jewish season of Teshuvah, a 40 day season of repentance and return to God leading up to the Day of Atonement.

We believe that we should respond to God's call with solemn assemblies on August 21. Some may feel led to pray and read through the Bible, while others may make a pilgrimage to pray along the Eclipse path. Then, we should humble ourselves and pray through the 40 day Teshuvah season.

These are dangerous times for America, and it is up to God's people to pray for healing our land.

"If my people who are called by my name will humble themselves and pray and seek my face and turn from their wicked ways, then will I hear from heaven and will forgive their sin and heal their land"- 2 Chronicles 7:14

We invite you to answer God's call and pray with us through Teshuvah 2017.

2. Resources to learn more about the Great American Eclipse

For more information go to our website at www.Teshuvah2017.com or download our book Teshuvah Eclipse by going here.

Pat and Ron Allen, Dallas, Texas

> > > Please note: Their book will only be available, free of charge online, for one week.
3. Eclipse Triggers Concerns by Department of Transportation
Go here.

4. Authorities are Treating August's Solar Eclipse, the First in 99 Years, Like it's the End of the World - Newsweek

Port-a-potty shortages. Cellular blackout zones. Ambulances stuck in gridlock. These are the conditions emergency managers across the nation are expecting the week of August 21.

The upcoming solar eclipse-the first in 99 years to sweep across the continental United States-has so many fans that disaster-level preparations are being put in place because of the large number of travelers predicted to jockey for prime viewing spots. As many as 7.4 million people are expected to pack into a 70-mile-wide band across the U.S. to watch the moon's umbra block out the sun for a two-minute window on August 21, according to solar eclipse education website GreatAmericanEclipse.com. The path of totality, the area where the sun is completely blocked out, stretches from Oregon to South Carolina. (Read more)
- Father God, we pray that Your Hand of shalom would rest upon our people on August 21st, and that in this eclipse, we shall behold Your Glory. Let all be done decently and in order at that time, in Your name, amen.

- " . . . truly I tell you that if two of you on earth agree about anything they ask for, it will be done for them by my Father in heaven." (Matthew 18:19)



1. PA payments to prisoners, 'martyr' families now equal half its foreign aid
- Times of Israel

The Palestinian Authority's 2017 budget for payments to inmates in Israeli prisons and so-called "families of martyrs" is equal in sum to about half of the foreign aid Ramallah expects to receive this year, a recently published Israeli report shows.

According to the PA Finance Ministry's 2017 budget, published on its website earlier in July, salaries to incarcerated and released Palestinian prisoners, many of whom are convicted terrorists, will amount in 2017 to NIS 552 million ($153.4 million).
(Read more)
2. PA demands: Recognize Palestine - then we'll consider land swaps
- Israel National News

Nabil Shaath, considered to be a close confidant of PA President Mahmoud Abbas (Abu Mazen) ruled out the idea of land swaps, saying that the idea can be considered only after Israel recognizes a Palestinian state with pre-1967 borders. Shaath was likely responding to recent reports stating that Prime Minister Binyamin Netanyahu expressed his readiness to transfer the Wadi Ara region to the Palestinian Authority.

"Practically speaking, land swaps can take place only after Israel recognizes Palestine, in 1967 borders, and not land swaps in Jerusalem or other places in the green line" Shaath was quoted as saying by the Ma'an News Agency.
(Read more)
3. Red Cross demands Israel reinstate family visits for Hamas terrorists
- Israel Hayom

The International Committee of the Red Cross has demanded that Public Security Minister Gilad Erdan reinstate visitation rights for Hamas prisoners from Gaza who are serving time in Israeli prisons. According to the committee, Israel's decision to prevent family members from visiting security prisoners is a "violation of the Geneva Convention."

In an interview with Israel Hayom Sunday, Simcha Goldin, the father of the late Hadar Goldin who was killed in Operation Protective Edge in 2014 and whose body is being held captive by Hamas, called the move "a demonstration of hypocrisy and inhumanity" from the Red Cross.

Referring to the letter sent by the ICRC to Erdan outlining its demands, Goldin remarked: "The letter went out with the knowledge that dead soldiers are being held hostage in Gaza while Hamas prisoners . . . receive improved conditions according to any convention."
(Read more)
4. Iran's role in Temple Mount clashes revealed
- Israel Hayom

The recent clashes in and around the Temple Mount were fueled in part by the Iranian government, Palestinian sources told Israel Hayom this week.

The clashes erupted after Israeli authorities installed metal detectors at entry points to the site in response to a deadly terrorist attack there on July 14. Many Muslims locally and around the world viewed the Israeli security measure as a bid to usurp control. Israel insisted the measure was meant only to prevent further attacks, and removed the devices less than two weeks later.

According to the Palestinian sources, tens of thousands of Muslim protesters received prepackaged meals along with notes in each one citing a famous quote attributed to 1979 Iranian Revolution leader Ayatollah Ruhollah Khomeini: "With the help of Allah, Palestine will be liberated! Jerusalem is ours." The note also depicted the Dome of the Rock and the Palestinian flag.
(Read more)
5. In record, over 1,300 Jews visit Temple Mount to commemorate destroyed temples
- Times of Israel
Breaking records, over 1,300 Jews on Tuesday visited the Temple Mount in the Old City of Jerusalem for the Tisha B'av fast commemorating the destruction of the Jewish temples that once stood at the site.
In light of recent tensions surrounding the site, the Jewish visitors were required to leave their identity cards with police before passing through metal detectors at the Mughrabi Gate, the only gate to the compound through which non-Muslims may enter.
Because of the large number of people seeking to go up to the compound, visitors were escorted around the site in larger groups than usual, Israel Radio reported.
(Read more)




1. John Kelly, Trump's new chief of staff, 'won't suffer idiots and fools' - Washington Post

Twelve days after Donald Trump's election victory, the president-elect asked John Kelly to meet with him at the stately Trump National Golf Club in Bedminster, N.J., to discuss the roles of secretaries of State and Homeland Security.

It was a small gathering. Present was Reince Priebus, the Republican Party chair who later became White House chief of staff, a post that he resigned this week. Also attending was Steve Bannon, Trump's chief strategist. Kelly, like other retired generals, impressed the president-elect, enough so that soon he'll leave his post atop the Department of Homeland Security to replace Priebus in the West Wing.

That meeting last November launched what has become one of the president's most important relationships within his beleaguered administration. He likes Kelly. He trusts Kelly. But what remains to be seen is whether Trump will listen to him as Kelly seeks to bring order to a White House beset by chaos. (Read more)
- Father, we pray Your blessing over incoming Chief of Staff, John Kelly. We pray You will use him to bring order and discipline to the White House and the entire Trump Administration.

- "But the noble man devises noble plans; and by noble plans he stands."
(Isaiah 32:8)

2. Lock up the leakers? Sessions to unveil crackdown, as Kelly gets White House staff in line - Fox News

Attorney General Jeff Sessions is set to announce a major crackdown on leakers this week, in the latest sign the administration is pushing to run a tighter ship as John Kelly seizes the reins as White House chief of staff. One of the first tasks facing the retired general and former Homeland Security boss will be plugging the leaks at the White House that his predecessor struggled to stanch. "If Reince [Priebus] couldn't control those leaks . . . then he was the one who was ultimately responsible, and General Kelly was brought in to make sure those leaks do not continue," former Trump campaign manager Corey Lewandowski told "Fox & Friends" on Tuesday.

Kelly, with his apparent role in Monday's removal of Anthony Scaramucci as communications director, already has demonstrated he'll oust staff members he thinks are causing problems. But beyond the White House effort to halt nettlesome leaks about behind-the-scenes feuding, Sessions is expected to go further with an announcement on criminal leak investigations -- specifically, concerning news reports that published sensitive intelligence material, according to officials who have been briefed on the matter. Sessions plans to hold a press conference on leaks on Friday. The announcement may provide more of an overview of what the DOJ hopes to accomplish rather than specific prosecutions at this stage, Fox News is told. (Read more)
- Father, we pray Jeff Sessions will be successful in removing leakers from our federal bureaucracy. We pray each federal employee will be loyal to our nation or be removed.

- "The wicked are punished in place of the godly, and traitors in place of the honest." (Proverbs 21:18)

3. Christopher Wray confirmed as new FBI director - CNN

The Senate voted overwhelmingly Tuesday to confirm Christopher Wray to be the new FBI director. The vote was 92-5.

Wray succeeds James Comey, who was fired by President Donald Trump ostensibly for his handling of the investigation into Hillary Clinton's email practices, though the President later said he had the Russia investigation on his mind when he axed Comey.

Wray, who is now a private lawyer, was a top Justice Department official during the George W. Bush administration. He was recommended unanimously by the Senate Judiciary Committee on July 20. (Read more)
- Father, we pray Cristopher Wray will serve the American people faithfully. Help him be effective and lead with integrity and honor.

- "But be sure to fear the Lord and serve him faithfully with all your heart; consider what great things he has done for you." (1 Samuel 12:24)

4. Republicans move to tax reform, but fight feared similar to Obamacare repeal - Washington Times

After their health care bill collapsed in spectacular fashion last week, Republican congressional leaders insist they won't make the same mistakes with tax reform, the other big-ticket promise they made to voters, and to which they will turn next. But there are enough similarities between the two issues that lawmakers are worried. Republicans go into the debate with only vague principles, have struggled to pique Democrats' interest and have received conflicting signals from the White House about priorities.

Still searching for their first major legislative win under President Trump, Republican leaders said they have to surmount those problems and deliver reform. "We looked at health care and said, 'Let's make sure we do tax reform better and differently,'" House Speaker Paul D. Ryan, Wisconsin Republican, said in an interview that aired Sunday on Fox News. (Read more)
- Father, we pray for the success of tax reform and the whole of President Trump's agenda in Congress. Help them put the needs of the American people first.

- "Our people must learn to do good by meeting the urgent needs of others; then they will not be unproductive." (Titus 3:14)

5. Trump's Border Security Success 'Is Nothing Less Than Miraculous,' Agents' Union Says - CNS News

"What President Trump has done in such a short time as it pertains to border security is nothing less than miraculous," the president of the Border Patrol union tells CNSNews.com. Brandon Judd, President National Border Patrol Council, attributes President Donald Trump's unparalleled success to his strong rhetoric, but tells CNSNews.com that now it's up to Congress to back Trump up with action:

"What President Trump has done in such a short time as it pertains to border security is nothing less than miraculous. No other president has been able to cut the number of illegal border crossings as President Trump has, and it's been strictly due to his rhetoric. As the numbers steadily increase, however, it is time for Congress to act." (Read more)
- Father, truly You are our fortress and shield, a mighty help in these times of trouble!

- "I will say to the Lord, "My refuge and my fortress, My God, in whom I trust!"
(Psalm 91:2)

6. Gov. Greg Abbott: How George Soros is helping Obama Democrats buy their way back to power - Washington Examiner

Liberals are trying to mess with Texas. And they don't plan on stopping there. Still reeling from nearly a decade of devastating losses in statehouses across the nation as well as in the 2016 presidential election, Democrats in Washington, D.C. are plotting to pour hundreds of millions of dollars in state and local elections across the country. With the help of hedge fund billionaire George Soros, the National Democratic Redistricting Committee hopes to wrest control from voters of congressional re-districting in 2021 when booming conservative states such as Texas will gain seats in the U.S. House of Representatives. All for the benefit of their special-interest donors. That the first fundraisers for this self-described "super group" were held in San Francisco and Los Angeles reveals one of their goals: to reinstate Rep. Nancy Pelosi as Speaker of the House. But they aren't stopping there.

Headed by former Attorney General Eric Holder, the tax-exempt 527 political action committee plans a three-pronged attack to flood state-level races with outside money, to leverage activist courts to wrest control of state redistricting plans, and finally, with the formidable community organizing prowess of former President Barack Obama, to fund astroturfed ballot initiatives in the guise of "fairness." (Read more)
- Father, we pray any and all initiatives funded directly or indirectly by George Soros, a Hungarian, You will mark "null and void". Help us overcome the enemies of our nation and secure our electoral process.

- "You have made his sword useless and refused to help him in battle." (Psalm 89:43)

7. Sen. Lankford Confronts ABC Over Calling Alliance Defending Freedom a 'Hate Group' - Townhall

Senator James Lankford (R-OK) sent a letter to the president of ABC News, James Goldston, Monday expressing "serious concern" over an ABC article that labeled the Alliance Defending Freedom (ADF), a nonprofit legal organization dedicated to protecting religious freedom, a "hate group."

"The July article covering Attorney General Sessions' speech, classified a religious liberty non-profit, the Alliance Defending Freedom (ADF), as a hate group using a standard set by the Southern Poverty Law Center (SPLC)," Lankford writes. "I found it odd that ABC would designate ADF as a hate group not based on any actual crime or action, but apparently based on their belief in religious liberty or traditional marriage." (Read more)
- Father, we thank You for exposing the Southern Poverty Law Center as the true "hate group" in this confrontation. We pray for reform within the SPLC, and if that is not possible, closure.

- "The godly will see these things and be glad, while the wicked are struck silent." (Psalm 107:42)

8. White House Drug Commission Implores Trump To Declare A State Of Emergency - Daily Caller

The White House commission created to tackle America's opioid addiction crisis is imploring President Donald Trump to immediately declare a national state of emergency. The commission, headed by Republican Gov. Chris Christie of New Jersey, delivered its interim recommendations Monday on what the Trump administration can do to tackle the worsening epidemic. The report provides a litany of early actions the administration should take, including granting waivers to states to eliminate barriers to treatment for everyone struggling with addiction, and boosting funding for state supplies of the opioid reversal drug Narcan, reports The New York Times.

The "most urgent recommendation," however, is to declare an immediate state of emergency for the nation. The commission said Monday the president is the "only person who can bring this type of intensity to the emergency and we believe you have the will to do so and to do so immediately. With approximately 142 Americans dying every day, America is enduring a death toll equal to September 11th every three weeks," the commission said in the interim report Monday. "Your declaration would empower your cabinet to take bold steps and would force Congress to focus on funding and empowering the Executive Branch even further to deal with this loss of life. It would also awaken every American to this simple fact: if this scourge has not found you or your family yet, without bold action by everyone, it soon will." (Read more)
- Father, help us restore these brothers and sisters, neighbors and friends. Set our nation free from addiction and draw us to You.

- "Then we will never abandon you again. Revive us so we can call on your name once more." (Psalm 80:18)

9. US detects North Korea committing 'highly unusual' submarine activity: Report - Washington Examiner

The U.S. military has detected "highly unusual" North Korean submarine activity, just days after the rogue nation conducted its second test of an intercontinental ballistic missile. CNN said the submarine activity was evidence of an "ejection test," which examines a missile's "cold-launch" system. An ejection test uses high-pressure steam to propel a missile out of the launch canister into the air before its engines ignite, CNN reported. This prevents damage to the submarine launching the missile. This would be North Korea's third ejection test this month, and demonstrates that Pyongyang is making progress in developing its submarine launch skills.

The latest test comes after Friday's intercontinental missile launch by North Korea that traveled about 600 miles before falling in the Sea of Japan. Experts say the test showed a capability of reaching the U.S. (Read more)
- Father, we continue to lift up North Korea and pray You will neutralize this threat and bring freedom to her people.

- "He has sent me to proclaim that captives will be released, that the blind will see, that the oppressed will be set free, and that the time of the Lord's favor has come." (Luke 4:18b-19)

10. Saudi Arabia says that calls for internationalization of holy sites 'a declaration of war' - Reuters

Saudi Arabia's foreign minister called what he said was Qatar's demand for an internationalization of the Muslim hajj pilgrimage a declaration of war against the kingdom, Saudi-owned Al Arabiya television said on Sunday, but Qatar said it never made such a call. "Qatar's demands to internationalize the holy sites is aggressive and a declaration of war against the kingdom," Adel al-Jubeir was quoted saying on Al Arabiya's website. "We reserve the right to respond to anyone who is working on the internationalization of the holy sites," he said.

Qatari Foreign Minister Sheikh Mohammed bin Abdulrahman al-Thani said no official from his country had made such a call. "We are tired of responding to false information and stories invented from nothing," Sheikh Mohammed told Al Jazeera TV. Qatar did accuse the Saudis of politicizing hajj and addressed the United Nations Special Rapporteur on freedom of religion on Saturday, expressing concern about obstacles facing Qataris who want to attend hajj this year. (Read more)
- Father, we ask for a move of Your Spirit over the Islamic world, pulling apart the threads of the 10-40 window in Your Power and for Your Glory. Only You are holy, only in Your Presence is holy ground.

- "Holy, holy, holy is the Lord of hosts; the whole earth is full of His Glory!"
(Isaiah 6:3)




Tuesday, August 1, 2017

The purposely hidden atrocities

In recent weeks there have been many news reports about group rapes, forced marriages, human sex trafficking and the modern slave trade extending from European countries. News reporters are using code words rather than exposing the truth behind these atrocities. They use words like "migrant population" or "immigrants" or "migrant communities" to describe who is responsible for and where these violent acts against women and children are taking place. What the media is not telling the public is that these "migrants" or "immigrants" are Islamic or are from Muslim-dominated countries. The media is irresponsibly hiding these atrocities rather than expose the "Religion of Peace" for its reprehensible acts.

The National Society for the Prevention of Cruelty to Children in the UK reports some 6,000 visits to its website that offers counseling and resources to those concerned about forced marriage. Counseling sessions were up 12% over 2016 with "Girls as young as 13" saying they were "frightened about being taken abroad and forced to marry strangers by their families." In addition, UK's National Health Services reported more than 5,000 new female genital mutilation cases in the year from April 2016 to March 2017. These are the consequences of allowing unrestricted immigration from Muslim countries because they are practices of the Islamic religious and political system, although governments don't want to admit it.

Festivals in Europe are also the target of sexual assaults and gang rapes committed by "individuals from migrant backgrounds." In Sweden, for example, four girls aged 15-17 were raped over the weekend at a festival. Last year, 40 girls were attacked at just one music festival in Sweden, showing a increase of a 1,000% country-wide over 2015. The disrespect for girls and women by Islamic "immigrants" is common. The US State Department report on Human Trafficking seems to go out of the way to avoid singling out Islamic nations, but it is Islamic nations that appear to commit the most human trafficking. For example, the top eight nations that nabs children for "child soldiering" are Islamic.

Approximately 60 of 71 countries that are on the State Department human trafficking watch list are Islamic dominated or have high Islamic populations. Communist or former communist nations make up the bulk of the rest. Of course, the State Department doesn't single out the common thread of Islam in these countries. It seems that the governments and media cannot or will not see the truth in where a large part of the evils of the world are coming from. For those who do see this, I am reminded of 2 Corinthians 4:2, "But have renounced the hidden things of dishonesty, not walking in craftiness, nor handling the word of God deceitfully; but by manifestation of the truth commending ourselves to every man's conscience in the sight of God." Let us be such.

Have a Blessed and Powerful Day!

Bill Wilson
www.dailyjot.com




More Daily Features

(See below . . .)

- The Persecuted Church
- Classic Hymns
- Signs and Wonders
- The Good News Corner
- Worship with Us Today!


Prayers for the Persecuted Church

"Remember the prisoners, as though in prison with them, and those who are ill-treated, since you yourselves also are in the body." (Hebrews 13:3)

Please visit the website for International Christian Concern to lift up prayers for the persecuted around the world, every day. Their link is: www.persecution.org -- or go here to connect. Thank you for interceding for our brothers and sisters who are suffering in Asia, the Islamic World, and the Far East.

Classic Hymns

LEANING ON THE EVERLASTING ARMS

"The eternal God is your Refuge, and underneath are the everlasting arms." (Deuteronomy 33:27)
Lyrics

What a fellowship, what a joy divine,
Leaning on the everlasting arms;
What a blessedness, what a peace is mine,
Leaning on the everlasting arms.
Refrain

Leaning, leaning, safe and secure from all alarms;
Leaning, leaning, leaning on the everlasting arms.
O how sweet to walk in this pilgrim way,
Leaning on the everlasting arms;
O how bright the path grows from day to day,
Leaning on the everlasting arms.

Refrain
What have I to dread, what have I to fear,
Leaning on the everlasting arms;
I have blessed peace with my Lord so near,
Leaning on the everlasting arms.

Refrain

Melody

Go here and enjoy!!!!!!!!!!!!!!!

About the Author:

Words:Eli­sha A. Hoff­man, 1887.

Melody:An­tho­ny J. Sho­wal­ter

About the Hymn: This song was sung in the 1943 mo­vie The Hu­man Com­e­dy, star­ring Mick­ey Roo­ney, which was nom­in­ated for Acad­e­my Awards in five ca­te­gor­ies, in­clud­ing Best Pic­ture and Best Ac­tor. Will­iam Sa­roy­an won Best Orig­in­al Sto­ry for the film.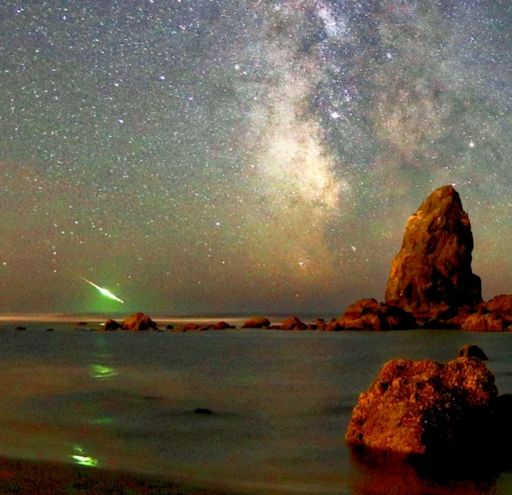 THE PERSEID METEOR SHOWER BEGINS NOW

This week, Earth is entering a stream of debris from huge comet 109P/Swift/Tuttle, source of the annual Perseid meteor shower. Specks of dusty debris hitting the top of Earth's atmosphere at 110,000 mph are burning up in the night sky, producing a spray of shooting stars from the constellation Perseus. On July 31st James W. Young photographed a green Perseid fireball skimming the coast off Cannon Beach in western Oregon.
In the last three nights (July 30-Aug. 1), NASA cameras have detected more than 2 dozen Perseid fireballs streaking over the USA. These numbers are small, however, compared to what is in store. Forecasters expect Perseid meteor rates to increase 10-fold as Earth plunges deeper into the comet debris stream. By the time the shower peaks on Aug. 11th-13th, sky watchers could see dozens of Perseids per hour despite the interfering glare of a bright gibbous Moon. Sprawl out in a moon shadow between midnight and dawn and enjoy the show! (SpaceWeather.com)
Read more here.

"I will show wonders in the heavens above and signs on the earth below, blood and fire and billows of smoke." (Acts 2:19)


The Good News Corner

A New Florida Law Allows Parents, Citizens to Challenge Textbooks
Used in Schools

Florida parents can now challenge the use of textbooks and other instructional materials in schools, and officials are required to hold an independent hearing to vet their concerns.

Florida Citizens' Alliance founder Keith Flaugh told National Public Radio the group pushed for the new law as a means of "getting the school boards to recognize . . . the garbage that's in our textbooks."

Flaugh said members of the Alliance have thoroughly reviewed 60 textbooks used in the state's schools, and the results were eye-opening. (Breaking Christian News) Read more here.


Worship With Us Today!

"What a Mighty God We Serve"
To worship with us today, please go here . . .




About Capitol Hill Prayer Partners

Our Mission Statement

Capitol Hill Prayer Partners (CHPP) is a ministry which is positioned on Capitol Hill in Washington, D.C., helping members of the Body of Christ to "pray for those in authority over us" in our federal government. Our primary purpose is to offer intercession on site for the members of Congress and their staffs each day that the Senate and the House of Representatives are in session; and our chief prayer focus is that "God's will be done in earth, as it is in heaven." [Matthew 6:10].
Because Jesus Christ has shed His blood for all, we, too, pray for ALL, in a nonpartisan manner. Also, because the scriptures indicate that "the effectual, fervent prayer of a righteous man availeth much" (James 4:17), we are confident that fervent prayer, offered in the halls of the highest chambers of government in our land, can avail much for America. Capitol Hill Prayer Partners welcomes those who feel called to join us, engaging in this strategic work of intercession for our nation: "For there is no power but of God; the powers that be are ordained of God." [Romans 13:1]
Friends may participate by receiving our daily prayer alerts. You may contact us at chpp1994@gmail.com for more information. CHPP is a 501(c)(3) tax-exempt ministry. Thank you and God bless you!

Note: You may also learn more about CHPP by going here to visit our blog. Thank you!




We Welcome Your Gifts

Capitol Hill Prayer Partners (CHPP) is a 501(c)(3), tax- exempt, faith-based, ministry, dedicated to praying for our leaders (1 Tim. 2:1-4). CHPP relies solely on the gifts of our readers to continue this work; thus we greatly appreciate your help in supporting this publication. Offerings may be sent to: Capitol Hill Prayer Partners, P.O. Box 5152, Herndon, VA 20172-1970. Please make checks payable to: CHPP. THANK YOU!

DONATE ONLINE!

Now you can also donate online by going here. Or . . . if you prefer, simply paste this link into your browser to access our secure online donor system:

https://www.egsnetwork.com/gift/gift.php?giftid=3B77E058-983E-4415-AA4E-2F82ED1A4DEA#

"The grace of the Lord Jesus Christ be with your spirit." (Philippians 4:23)